B-A-N-A-N-A-S Does anyone else hear Gwen Stefani any time you are trying to spell bananas?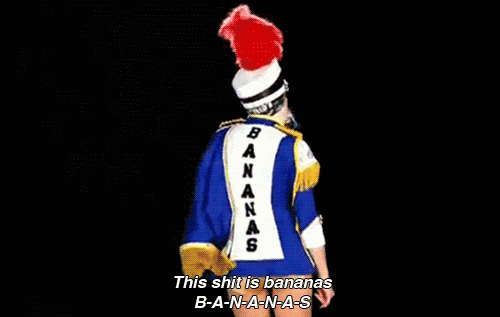 Since everyone is making banana bread while the stay at home advisory is in effect, I figured I'd share my coconut banana bread recipe.  I'm not the biggest fan of coconut BUT I really enjoy it in banana bread.  This is partly due to the very subtle taste of it, and partly due to the texture it adds.  I really hate adding nuts to most baked goods, but I do want that texture it gives.  Coconut flakes are the perfect solution for me to get that texture without adding nuts.
Ingredients
1 2/3 cup all purpose flour
1/2 tsp baking soda
1 tsp baking powder
3/4 cup granulated sugar
3/4 cup unsweetened coconut flakes
2 overripe bananas mashed finely (I've used both large and small bananas before and both have worked out just fine.  I've also never measured the amount before but just trust me that 2 bananas will be enough.)
8 Tbsp melted unsalted butter
2 large eggs
1/4 cup sour cream
1 tsp vanilla extract
Directions
Preheat oven to 350°F. Grease a 8×4″ loaf pan.
In a large mixing bowl combine flour, baking soda, baking powder, sugar, and coconut flakes.
Add in mashed bananas, melted butter, eggs, sour cream, and vanilla extract. Combine until ingredients are well incorporated and you don't see lumps.
Pour into the greased loaf pan and bake for 55 minutes.
Let the loaf cool to room temperature before slicing and serving.